Marching beyond Covid
Grandview's marching band has adjusted during the pandemic
 Covid-19 has affected plenty of things in the world. Many things were shut down, including schools. School activities have been limited-even Grandview High School's marching band. 
  Charles Jakes, marching band director, said, "Covid has affected the marching band in many ways. At the beginning of the season, students weren't allowed to practice in the school building, and they lost hours of rehearsal time the band typically has." 
  The band had to make sure that they were practicing social distancing and the school had to purchase a special mask that has a flap on it for every student.
   The practices were different because in the past, the band has practiced indoors. Because of Covid, the students were not allowed to come inside the building. "The time and preparation was a huge change," Jakes commented. "Spacing the students out and not letting them share music were all adjustments."
Unfortunately, the band is not allowed to perform during events. Every performance is pre-recorded for football games at half time. It's not the same, but it gives the students the opportunity to experience the marching band.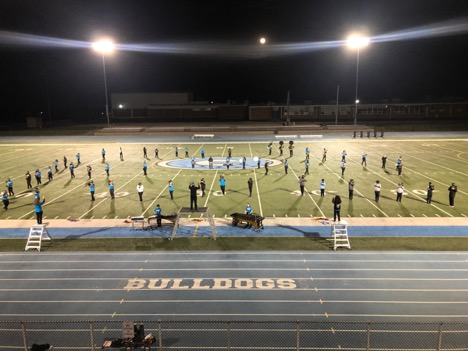 "It's really important to make sure the students are still able to participate," Jakes said.
Jakes was afraid that the marching band would suffer because of Covid-19 and that students would drop out. It brought tears to his eyes because he loves building relationships with the students. 
 He is especially concerned about this years' seniors. "It was all so heavy on my heart thinking about what the students were missing out on during their last year of school," he said.
However, Jakes feels like they have done a great job getting everything done in the middle of a pandemic. His hopes are that the marching band will be able to perform at Harry's Hay Day Parade on May 3.
 "I hope for this year and next year that students can continue to work hard while getting used to doing work online," Jakes said. He also hopes that students will become more responsible as they get adjusted to online learning.
  "I just want the marching band students to know that I am super proud of all the accomplishments and all the challenges they have overcome this season," Jakes said.