Adapting to the school life
Grandview returned to in-person learning Aug. 27
 After over a year and a half, Grandview High School opened up for in-person learning  on Aug. 27 with new regulations for all staff and students. Safety was the number one priority.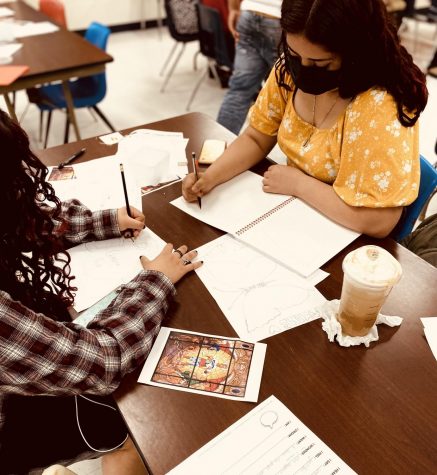 When students left on March 12, 2020, they had no idea it would be the last time they were in-person for the school year. The Covid-19 pandemic caused students and teachers around the country to have to adapt overnight to online learning.
 The remainder of the 2020 school year and the beginning of the 2021 school year was virtual. On Nov. 4 of last year, students who opted for in-person learning were welcomed back in-person on a hybrid schedule. A second group of students returned Jan. 4, 2021. 
  In order to return in-person on Aug. 27, a lot of planning had to be executed. Grandview C-4  superintendent Dr. Kenny Rodrequez, administrators and staff had to make it safe for the students. There were many policies put into place, including physical distancing, staying home if you show any symptoms, masks being required at all times even if vaccinated, extra cleaning duties and sanitizing in between classes. If students are exposed, contact-tracing is conducted.
  The Jackson County Health Department has mandated wearing a mask. This order will remain in effect until Sept. 23; at that time, they will make a decision whether this should continue. It is unclear whether Grandview C-4 schools will mandate masks for the entire school year.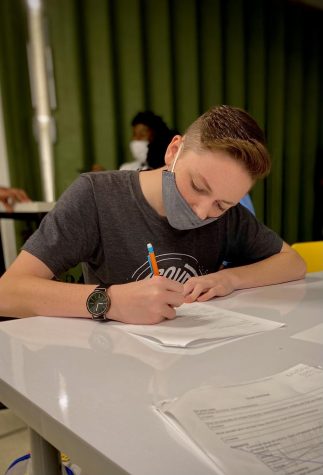 In addition to safety measures inside schools, the Covid-19 dashboard on the district website updates every Wednesday with all new cases and outbreaks listed.
  Despite all of the measures to make sure students and staff could return safely, students had mixed feelings about returning to school. "Being back is kind of weird, but seeing everyone since Covid is cool," senior Destiny Stuart stated.
 Some students adjusted to virtual learning and its flexibility. "It's fun being back in school, but I preferred virtual," senior Ian Kearney said. "I got to work at my own pace." 
 If students wanted to continue online learning in lieu of in-person, there was an alternative program available called Launch. This is not taught by Grandview teachers, however; it is offered through Springfield Public School District.
  Not everyone qualifies for the Launch program. "In order to be virtual this school year, counselors looked at prior attendance and whether students were successful with virtual learning last year," assistant principal Jamie Russell said.
  Overall, Grandview School District has tried their best to make it as safe as possible for the return of all staff and students. Although it was rough trying to adjust back to this new normal, the Grandview School District has made an effort to overcome the challenges.