Girls Basketball makes history at Districts
Three decades in the making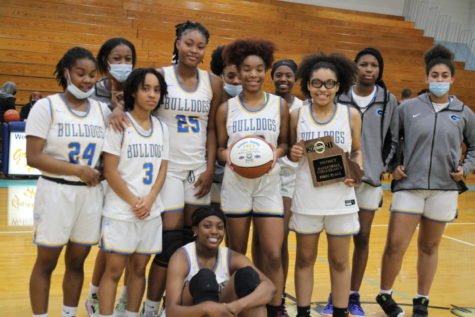 The girl's basketball team put up a great fight this season with a record of 15-8. The Lady Bulldogs also made history by taking the District title for the first time in 30 years. This game took place at Grandview High School on March 5 against St.Teresa's Academy with a final score of 56-43.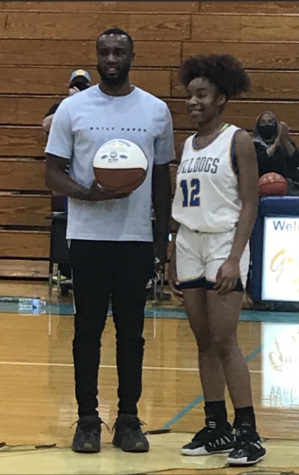 On that same night, Junior guard Cierra Smith received a basketball with her name and her 1,576 career points on it. She broke the record of 1,572 that night, which was set by alumni Ty Taylor back in 2014.
The season started off rough for the Lady Bulldogs. However, the conversations amongst the coaches and players showed they knew how to adjust and make it a great season. "The good thing about the season is that we continued to improve," head coach Brian Everett stated. 
The team worked very hard during practices, shoot-around, and games. These girls bonded with each other and were dedicated to improving themselves. They felt like they were progressing each and every day as the season went on. "I feel like this season was an experience for the coaches and the team, but as the season went on, we grew together," junior guard Ciera Smith stated.
Even the superintendent, Dr. Kenny Rodriquez thought this team was fun to watch. He is extremely proud of the girls and is impressed with how hard they have worked to get this far. "It is just an amazing thing for the team, the school and for the Grandview community," Dr. Rodrequez said.
Although the girls didn't make it to State this season, there is still a bright future ahead for this team. With no seniors on the girl's team, many people are thrilled to see these girls back in action next year. 
"With the talent and determination that they possess, I think they will be unstoppable," Dr. Rodrequez said.