Senior Honors Night
Students cash in for their future
On May 4, several Grandview High School seniors were rewarded for their hard work and dedication during the GHS Senior Honors Night  in the Grandview High School Auditorium. 
This night honors seniors for their hard work they have done throughout high school and gives them a chance to have one final memorable event. Because of Covid, the event was attended by seniors and presenters.
Various students received multiple awards and scholarships. "I applied for scholarships simply because college in America is extremely expensive," Jair Tobias-Zamora said. Tobias-Zamora received the Jess L. Taylor Scholarship, Larry Downing Memorial Scholarship, GHS Athletic Bulldog Booster Club Scholarship and Gladys Robinson/Martin City PTA Scholarship. 
In total, Tobias-Zamora walked away with $2,750. 
Tobias-Zamora learned a lot about how to apply for scholarships and encourages others, no matter their rank in their class or their GPA, to apply for scholarships. "Go and try all the things you don't think you will qualify for or be great at," Tobias-Zamora said. "You'll never know what will happen if you don't try."      
Chuka Eze's three scholarships totaled $5,000. Eze received the George M. & Elizabeth V. Robinson Scholarship, the Grandview Education Foundation Scholarship and the Grandview Lions Club Swan Norby Scholarship.
Eze was happy to learn about all the scholarships that were open to seniors. "Receiving these scholarships has shown me that the school supports me and wants to help support my education," Eze explained. "It has motivated me to achieve my goals."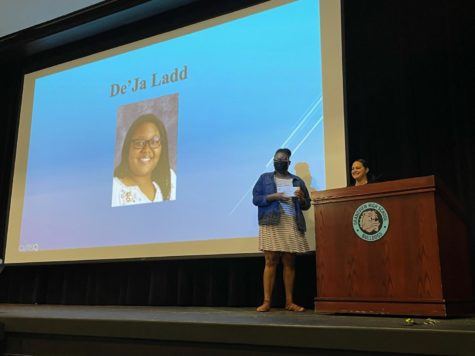 Jourdan Dukes was honored with nine scholarships and it totaled $10,100. "It was a blessing receiving this many scholarships," Dukes said. "I was hoping to have some financial aid to help pursue my future endeavors."
Dukes plans to use this financial aid and attend the University of Missouri in the fall of 2021. "My goal is to become a dentist and diversify the dental field in this country," Dukes explained. "This country needs more diversity within the medical field to provide the best quality healthcare for patients."
With all the scholarships she has earned, Dukes expressed the importance of staying focused and determined when applying for scholarships. "Trust the process! I would apply for as many as you possibly can," Dukes stated. "It may seem impossible but if you work hard it will all be worth it in the end."
In all, $55,700 worth of scholarships were awarded to 21 seniors.
To see a complete list of scholarships given, please watch the video below!