A taste of summer!
Parks and Recreation activities this summer
This summer, Grandview Parks and Recreation has a full schedule of events planned for families and friends to enjoy! Events, located at the Grandview Amphitheater, will start in June and continue through August.
Live Music
On June 4 from 7 p.m. to 10 p.m. the Grandview Amphitheater is hosting a Summer Concert Series featuring the All Stars Band. "The All Stars is a fun cover band that plays music from the 70's and 80's, featuring Motown, disco, rock, R&B, country, blues and more," Liz Ogle, Marketing Manager of Grandview Parks and Recreation, explained.
On July 16 from 7 p.m. to 10 p.m. The Mixtapes will be performing music from the 90's, featuring No Doubt, Third Eye Blind, Britney Spears, Nine Inch Nails, Spice Girls, Nirvana and more. The Mixtapes are a 90's alternative cover band from the Springfield area.
Farmers Market
Starting June 5, the Grandview Farmers Market will be open for business! It will be held every Saturday from June 5 through September 25 from 8 a.m. to 12 p.m. 
People will be able to shop for local produce and crafts. The market is allowing anyone that creates or grows their own items to be a vendor. Interested individuals must submit a vendor application on their website and will pay $10 per stall per week.
Alexia Jaime, sophomore at Grandview High School, has a personal interest in the farmers market. "I think it would be very interesting and beneficial," Jaime said. "They would have healthier options of food and it would help sellers gain profit and recognition for their products."
Movie Night
There will be a movie night at the Amphitheater hosted by Grandview Parks and Recreation. They will be showing "The Croods 2: A New Age" on June 18 for only $1. Families and friends will be able to enjoy food trucks on-site. Don't forget to bring blankets and lawn chairs for seating!
"The Croods 2: A New Age" has a storyline that keeps the whole family entertained. Looking for a safer place to live, the Crood family finds an ideal home that meets all of their needs. Sadly, they must find a way to live with the Betterman's – a family that's a couple of steps above the Crood's on the evolutionary stepping stool. Join us June 18th, to find out if they will be able to set aside their differences and learn to live together.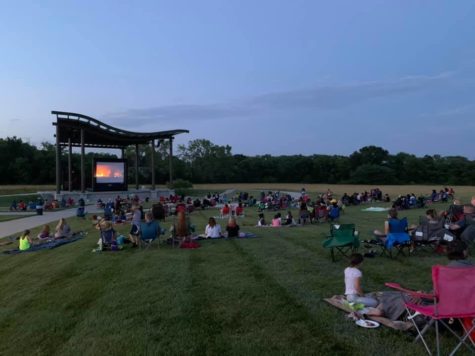 Events such as Movie Night are designed to bring families and friends together of the Grandview community. "We truly enjoy seeing folks having fun and enjoying themselves during our events and activities," Ogle said.
Yoga at the Amp 
Studies have shown that yoga can help you manage stress, increase flexibility, ease anxiety, improve sleep and much more.
On every second and fourth Saturday of each month, people can start their mornings off right with a peaceful yoga session and go home feeling refreshed! Yoga at the Amp will start in June at 9 a.m.
"The yoga session is really admirable," Jaime expressed. "It is super relaxing and during times like these it can be very beneficial to someone's well being."
Building a Community
The staff, management and coordinators of Parks and Recreation hope to allow people to enjoy themselves this summer after a long year.  "I think I can speak for the whole management and coordinator team when I say we want to help build a strong community within Grandview," Ogle said. "And hosting community events and programs is a key to that."