Mock crash targets dangers of distracted driving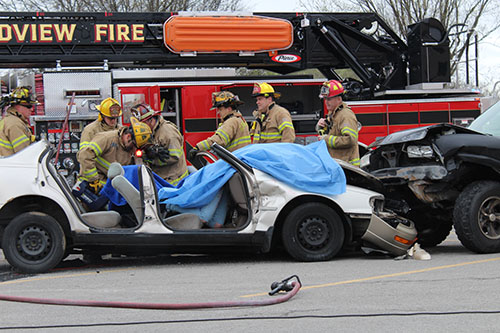 The juniors and seniors of GHS participated in a mock crash Friday, March 31 to make students aware of the dangers of distracted driving. This event was coordinated by the GHS chapter of Students Against Destructive Decisions.
First, the students were in the auditorium to watch videos about the subject. The videos provided real-life stories of people who were in these situations to open the eyes of the viewers.
If the students didn't take these videos seriously enough, there was a mock crash outside with peers showing what it would look like, and how the police and emergency medical personnel would get involved.
GHS students Jasmyn Tilford, Libby Casey, Laura Carr, Ashley Arthur, and Jacob Gardner were all part of the mock crash experience.
Libby and Laura were victims of the car crash, and were the ones who weren't able to be saved.
Jasmyn and Ashley were both victims who survived, but were severely injured as a result of the wreck.
"The hardest part was not having a script, so I had to act based on how I would if I was in that situation," Jasmyn Tilford said.
Jacob Gardner played the role of the drunk driver who caused the wreck. As part of the drama, he was arrested by the end of the mock crash.
"The hardest part was trying to convey how serious it was," Gardner said.
Even though the mock crash was all acting, each student said they learned that this was real life. This could really happen to anyone, and being aware while on the road is the safest way to be.