Back in-person for the final stretch
Students and staff adjust as schedules shift
It is obvious that many students came back to Grandview High School to finish the school year doing in-person learning. Ever since the return, students have been to every class on their schedule every day starting with WIN at the beginning of the school day. 
However, the last week of April, Grandview High School made the decision to go to a block day schedule in compliance with Missouri's EOC testing. This consists of four classes a day with WIN in the middle of the school day.
Several students and staff voiced their opinions regarding the new schedule change. When Superintendent Dr. Kenny Rodrequez made the decision to bring students back four days a week, he knew that there would be a lot of mixed feedback from the Grandview community including parents, students, and staff. 
The first group of students to be brought back into the school for a hybrid learning schedule returned on November 9 followed by the second group returning after the holiday break on January 4, 2021. These students were in school two days a week and went to all of their classes every day. 
There are 1,426 students currently enrolled at Grandview High School. Out of the approximate 400 that elected to come back, only about 200 per week returned back to school.
Two days a week seemed like a great option for students who chose to come back, but some students felt that four days a week just didn't make sense. "Some of it is pointless because you do the same work over and over again the same days," sophomore Marlon Dawkins said.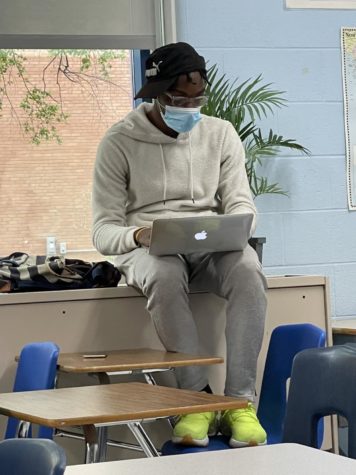 Dr. Rodrequez had many reasons that persuaded him to make this decision. "My goal was to balance the feedback I was getting, but at the same time, do what we thought was in the best interest of kids," Dr. Rodrequez stated. "Getting kids in school was going to be for their best interest," Rodrequez claimed. 
Bringing back students in-person for as many days as possible was the plan all along. "Initially, our plan was to bring the high school students back four days a week by Thanksgiving," Rodrequez said.
Teachers also had to adjust to teaching students online while also welcoming students back in person. 
"I think for the kids that wanted to be in person, this was way better for them because you can really help some kids that have struggled this year – and this is a very vital time for them," math teacher Jeremy Clarkson said.
Schools like Belton High School and Rockhurst High School had students in in-person learning the entire school year. Some wondered why it took Grandview so long to join them.
Even as students in other schools were attending school full-time, some Grandview students preferred just attending two days per week on a hybrid schedule. "If you do virtual only, you get a break and you can also catch up while you're at home," Dawkins stated.  
Dr. Rodrequez received a lot of feedback surrounding whether or not to bring high school students back full-time. "I heard from parents who definitely wanted their kids to come back and some that said you shouldn't be bringing kids back at all," Dr. Rodrequez said.
Another reason that Rodrequez came to this decision was that he wanted to make an emphasis on next school year's plan. "Hopefully it sets a tone for next school year that we are coming back to school.," Rodrequez stated. "We wanted to make sure that they reconnected with school going into the summer and into the next school year."
With large amount of students staying home for the whole school year their school lives were impacted, too. This was especially felt by students who opted to stay virtual.  "Some days I regretted my decision to stay home because I do miss the high school experience," sophomore Autumn Arthur said.
Dr. Rodrequez's intentions were pure when he decided to bring students back to school four days a week. "Our youngest students needed to be in school as often as possible," Rodrequez added.
All in all, he made his decision with students being the priority. It is the district's goal to have students in-person full time at the beginning of the 2021-22 school year.